Columbia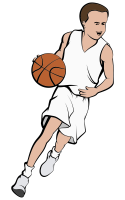 Isaac Williams - C
Team: Columbia Lions
[ID #126]

Location: New York, NY (Northeast)
Conference: I.1 [Division 1]
President: g10rsh

[since February 04th 2018 | last seen February 29th 2020]
Rank: #2
Rating: 330.10 - Overall Position: #3
Fan Mood: 154.11
Alumni Mood: 149.70
Prestige: 66
Team Notes:
• Feb 03 2011: 4-star prospect
Austin Spears
committed.
• Jan 15 2011: 5-star prospect
Steve Pruitt
committed.
• Jan 13 2011: 3-star prospect
Ethan Sutherland
committed.
• Jan 13 2011: 4-star prospect
Chris Curry
committed.
• Nov 10 2010: 3-star prospect
Dalton Hogan
committed.
• Mar 14 2010: Made the national tournament field.
• Mar 14 2010: Won the
I.1
conference playoffs.
• Sep 03 2009: Promoted to conference
I.1
.
• Jun 30 2009:
Cody Moore
was inducted into the team Hall of Fame.
• Jun 30 2009:
Cody Moore
was drafted round #1, pick #12 by Golden State.
Record:
Wins: 32 Losses: 5 Pct: .865 Conf Wins: 23 Conf Losses: 4 Conf Pct: .852 Conf Rank: 2 Last10: 9-1 Streak: W4
Pts Ave: 92.6 - 76.1 Pts Diff: +16.4 Team Power Index: 161.1
Press Releases:
Nov 27 2003:
Cody Moore Commits to Columbia
-
by g10rsh on January 6th, 2019
After last years recruiting debacle head coach Reggie McMillan was seen skipping up and down the halls, his chants of "We got him we got him!" reverberating through the building.
Cody Moore, the current #1 on top prospects has committed to join the Lions next year. He has had a long relationship with the coach, who began recruiting him as a freshman. the coach even red-shirted his best starters this year so that Cody would have better players to play with for longer.
Having only one scholarship to give out this year means the recruiting squad can move onto looking into juniors for next years crop.
Oct 04 2001:
New Year, New Roster, Same Problems
-
by g10rsh on September 1st, 2018
Today after just a few days of practice Columbia Athletics head coach posted the expected depth chart for the start of the season, as well as redshirt orders.
PG: Joseph Cooper (SR)
SG: Dave Rooney (RS JR)
SF: Chuck Waldrip (FR)
PF: Blake Daniels (SR)
C : Dion Gardner (JR)
Backup Gaurd: Alexander Patterson (FR)
Backup Forward: Micheal Martin (FR)
Red Shirts:
Derrick Booker (FR)
Alexander Patterson (FR)
Cooper, Daniels, and Gardner return from a squad that last year managed to post a winning record, but not much else, Cooper will be making the transition from SF to PG. When asked about the new responsibilities all he had to say was "It's about time, somebody has to turn this offense around." However This reporter has heard from sources close to the head coach that he is actually only excited about the two new starters and the freshman who will be coming in off the bench. If they improve well they may be starting by the end of the year. Chuck Waldrip looks to be a future longterm captain, and after Dave Rooney's redshirt year he looks ready to come in and be our main point scorer on offense.
There was also drama, As the long estranged Patterson brothers, who had arranged to come here to play together saw the depth chart and realized that while one would be playing a large role in the offense right off the bat, the other would be asked to redshirt. When asked for comment Head Coach Reggie Mcmillan had this to say. "It's simple honestly, if I had options they'd both be redshirting, but Jamal is the best we have to fill a necessary hole on offense, I plan to redshirt him at sometime during his career here as well, so they should stop griping and focus on making sure they are ready to dominate in league II by then."
Jan 18 2001:
Miami Phenom Joins Lions
-
by g10rsh on August 7th, 2018
Micheal Martin has decided to head north to Columbia. When asked what him decide to make the long trips down to florida to recruit this kid he said "I was looking forward to some fun and sun when i came across this kid."
Coach McMillan sees a bright future for this kid. "He's gonna be our inside man. He absolutely rocks the post, cleans every board, and plays tireless defense."
Oct 21 2000:
First Recruit
-
by g10rsh on July 13th, 2018
The Columbia Lions are proud to welcome their first commitment,PG
Jamal Patterson
out of Wilkinsburg, Pennsylvania.
New head coach Reggie McMillan had this to say when asked about the new recruit. "The first time I saw this kid play I knew he had potential, his skills are still very rough, but he has the leadership qualities and intelligence that will make him a huge asset as a Lion."