Villanova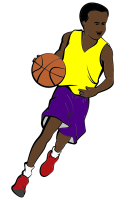 LaMonte Jefferson - PF
Team: Villanova Wildcats
[ID #27]

Location: Villanova, PA (Northeast)
Conference: I.1 [Division 1]
President: Philliesworld

[since February 04th 2018 | last seen July 18th 2019]
Rank: #1
Rating: 187.22 - Overall Position: #26
Fan Mood: 133.25
Alumni Mood: 116.80
Prestige: 36
Team Notes:
• Jan 25 2007: 4-star prospect
Elliott Hutson
committed.
• Dec 23 2006: 4-star prospect
Fabian Aguilar
committed.
• Dec 09 2006: 3-star prospect
Eric Jacobson
committed.
• Mar 12 2006: Made the national tournament field.
• Feb 02 2006: 4-star prospect
Seth Key
committed.
• Jan 07 2006: 4-star prospect
Dane Hollis
committed.
• Dec 17 2005: 4-star prospect
Pernell Hiatt
committed.
• Sep 01 2005: Promoted to conference
I.1
.
• Mar 13 2005: Made the national tournament field.
• Mar 05 2005: Won the
II.1
conference.
Record:
Wins: 29 Losses: 7 Pct: .806 Conf Wins: 20 Conf Losses: 6 Conf Pct: .769 Conf Rank: 1 Last10: 7-3 Streak: W1
Pts Ave: 94.7 - 80.5 Pts Diff: +14.2 Team Power Index: 156.4
Press Releases:
Oct 05 2006:
Wildcats Reach Final Four
-
by Philliesworld on June 8th, 2019
Villanova made their deepest National tournament run yet. Fourth year head coach Brady Carrington has proven himself to be a premier coach in the NCAA basketball circles. After promoting to the most difficult conference last season and having a solid winning season, Nova went onto a deep run in the seasons biggest stage. Eventually the wildcats were stopped by the eventually National Champions, Columbia Lions in the final four. Villanova ended the season ranked fifth in the top 25 poll.
Led by a talented squad of guards Zane Myles, and Darrin Ray, Forwards Cole Langford, and Rob Lindbergh, and Center Roscoe Timmons. Nova was a resilient high scoring team all season long. PG Zane Myles and PF Rob Lindbergh we're the seniors of the starting squad, the rest are all returning ng for what's shaping up to be an even better team next season with the addition of three, four star recruits.
When Coach Carrington was asked about his age (67) and if he's contemplating retirement in the near future he responded by saying, "I have grown very attached to this team, and school President Philliesworld and I have a superb relationship. We have plenty of great things to accomplish yet, and retirement isn't going to get in the way of that."
Mar 11 2005:
Villanova Takes Home Conference II.1 Regular Season Title
-
by Philliesworld on April 3rd, 2019
After four years of mediocre and uninteresting play the Wildcats stepped up and played a great season culminating the winning of the II.1 conference title. Coming into the season there had been pressure on third year head coach Brady Carrington to take this team to the next level after going 37-46 in the previous two years. Now after a convincing 31-9 regular season performance, and a high seed bid to the national tournament Carrington's job seems to be on solid footing. Of course the team assembled under Carrington was one of the better in the NCAA, the Wildcats finished the season ranked ninth in the nation in the AP poll. A younger team led by JR Zane Myles, the Cats led the II.1 conference in scoring and had one of the better defenses in the league. Nova implemented an effective and skilled passing oriented offense that channeled the ball inside to the big men. The lone commitment to Nova this season came from 6'6" PF Chester Lester, a four star player who has the ability to play any position on the court, something which Carrington has repeatedly said was something he wants on this team.
Jan 16 2003:
Brady Carrington Annouced as New 'Nova Coach!
-
by Philliesworld on November 27th, 2018
The man who convinced five star prospects Darrin Ray and Cole Langford to become Wildcats is gone. Shocking to say the least. Than again maybe not. There has been rumors swirling since the middle of last season. When Laurence Wallace brought in the recruiting haul that has made headlines this season it was thought that his job security had improved significantly. But an abrupt managerial change by school President Dave Lee made shockwaves last night.
Brady Carrington, the man to take this volatile ship by the helm has quite the resume. Everything about him fits what President Dave Lee wants. First off while Carrington doesn't have any college coaching experience his high school coaching career is legendary. Which brings up another positive. Carrington is a New York city native and that's also where he spent the entirety of his coaching career winning championship after championship. Including two with Darrin Ray on his team. The familiarity of the New York recruiting region makes it invaluable to Villanova as New York is a major talent pipeline for the team. And for a man who guided Darrin Ray to national stardom in high school why not also coach him through college.
While the firing of Laurence Wallace may still seem shocking despite that fact that Carrington is a perfect fit. It becomes more evident why Dave Lee moved when he did. While the rumors were swirling last season about Wallace, there was obvious sticking points with him. The mediocrity of his teams playing and the complete inefficiency with which his defenses played. When this season's recruits starting committing it,just masked those problems and don't solve them. Now that this season's recruiting class has been locked up. It was time to focus on the future years. And Dave Lee decided it was time to move on and get his guy.
Laurence Wallace has refused to speak with the media. But Brady Carrington, and Dave Lee are expected to hold a,joint press conference shortly.