Wisconsin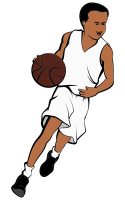 Jaylen Cooper - SF
Team: Wisconsin Badgers
[ID #38]

Location: Madison, WI (Midwest)
Conference: V.8 [Division 2]
President: electriceel883

[since June 07th 2021 | last seen January 26th 2022]
Rating: 117.34 - Overall Position: #286
Fan Mood: 110.55
Alumni Mood: 154.25
Prestige: 114
Team Notes:
• Aug 31 2023: Promoted to conference
V.8
.
• Mar 12 2023: Made the division 3 tournament field.
• Mar 04 2023: Won the
VI.16
conference.
• Feb 09 2023: 2-star prospect
LaMonte Perryman
committed.
• Dec 10 2022: 4-star prospect
Gilbert Vernon
committed.
• Oct 22 2022: 3-star prospect
Ned Haller
committed.
• Oct 06 2022:
Lyle Drew
was hired as the new assistant coach.
• Oct 06 2022: Assistant coach
Isaac Bullock
was let go.
• Sep 01 2022: Demoted to conference
VI.16
.
• Mar 26 2022: 2-star prospect
Miguel Solano
committed.
Record:
Wins: 5 Losses: 2 Pct: .714 Conf Wins: 0 Conf Losses: 0 Conf Pct: .000 Conf Rank: 6 Last10: 5-2 Streak: L1
Pts Ave: 78.7 - 65.9 Pts Diff: +12.9 Team Power Index: 136.0
Press Releases:
Oct 21 2023:
Charity Stripe Starts At Home
-
by electriceel883 on January 21st, 2022
We have some rivalry games scheduled this year for our fans and the season tips off with D1 Wisconsin Lutheran. We tried to put the game in the hands of our bigs and play very slowly and that did not exactly go as planned against WL's heavy press.
Angelopoulos had 0 FG and Peterson fouled out with 19 minutes played and Southard shot very poorly. Fortunately with our heavy inside emphasis, our slow-footed but very skilled PG Rose scored 18 points with an average distance of 9 Ft per shot, and Solano played a terrific game in relief of the front court starters with 11 points and 5 boards.
We had only 9 turnovers, drew 17 fouls and knocked down 18 of 20 foul shots which was the difference in the game, as we prevailed 65-61.
Oct 05 2023:
Alan Peterson Day
-
by electriceel883 on January 15th, 2022
Peterson used the fact that his state team Wisconsin was the only one to offer a scholarship as a motivator. After working hard in practice and the exhibition game he was the rare prospect who needed no redshirt season before stepping regularly onto the court. He made it into 43 games, averaged 9.2 pts/6.7 rbg, +/- of 8.1 and was honored today as Freshman of the Year by VI.16. He also grew by an inch and will now compete in V.8 and try to build on his success.
Mar 16 2023:
Badgers defeat Texas
-
by electriceel883 on January 8th, 2022
A hard-fought slugfest vs. Texas. The big decision was starting Cooper over Zubac at Small Forward, as Cooper is a more reliable, all-around player. He shined for 14 points, 2 offensive rebounds, 2 steals and 0 turnovers. We took a 6 point lead at halftime and were able to stave off Texas in the second half to win 89-87. Pellegrini and Mackey led the team with 19 & 18 points.
This is the second tournament win under my watch. In both cases we were #5 seed. Academy of Art up next.
Feb 02 2023:
Anticipation on overload II
-
by electriceel883 on December 25th, 2021
As the season gets into its final stretch the Badgers travel to CWR in an attempt to win our 15th straight game. Thus far, the Spartans are the only team that has defeated us in conference play, though this fact is not that obvious considering we almost blew the game today against LeTourneau. Jaylen Cooper is ailing from a wrist injury for the second time in 3 games and will miss the contest.
Harun Zubac will be dialing up his intensity to maximum and try to ball as much as possible at SF. Says he, "Case only beat us last time because Micah Brewer's stink knocked us out". Coach Owen has been running defensive drills all week and said "there is no way we can let them shoot 55% again." We played some other Spartans in the 2000 Final Four. I hope this has a different ending than that did.
The fans and the team are ready! Bring it on Case Western Reserve!
Jan 12 2023:
Anticipation on overload
-
by electriceel883 on December 20th, 2021
There was a 14-1 tie atop VI.16. A furious race among us, Sonoma State and Case Western Reserve to prove who was the best going into todays matchup with Sonoma State. We had handed Sonoma State their only loss in conference play in the friendly confines of the Kohl Center earlier in the season. Only by beating Sonoma in the harsh atmosphere of the Wolves Den would allow us to prove ourselves once and for all.
"I dont know much about baskeball other than trying to get the right players in the right situations. Out rebounding Sonoma, low turnovers, few fouls and team play were our game plan".
Things did not go according to that script. However strong perimeter and overall defense, with Pellegrinis 21 points & 8 rebounds from the SG position, iron man Toby Rose at PG (35 minutes after Southard, the backup PG, managed to collect 5 fouls in 13 minutes of play), and the heroics of true freshman Peterson (11 points & 14 boards) playing 29 minutes through fatigue in relief of Mackey (12 points, 7 boards) after he fouled out made the difference, as we earned a hard fought 82-78 win in overtime, overcoming a 20/20 performance by Carlos Valenzuela, with strong team play. Nice off the bench 7 minutes as reserve guard O'Connor knocked down 2 crucial treys.
"We are very happy to give our fans a team to cheer about after 2 straight 11 win seasons" - SF Jaylen Cooper.
With Case Western Reserve dropping a game today, we are now alone in 1st place.