Alaska Anchorage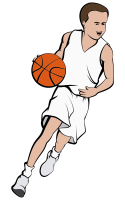 Steven Ahrens - PF
Team: Alaska Anchorage Seawolves
[ID #459]

Location: Anchorage, AK (Arctic)
Conference: VI.27 [Division 3]
President: lynx13

[since February 15th 2020 | last seen July 14th 2020]
Rating: 66.46 - Overall Position: #763
Fan Mood: 87.92
Alumni Mood: 81.10
Prestige: 0
Team Notes:
• Feb 16 2013: 3-star prospect
Steven Ahrens
committed.
• Jan 17 2013: 3-star prospect
Marvin Meyers
committed.
• Dec 20 2012: 3-star prospect
Adrian Dennis
committed.
• Dec 08 2012: 3-star prospect
Vladimir Petrovsky
committed.
• Oct 04 2012:
Tevin Ross
was inducted into the team Hall of Fame.
• Dec 31 2011: 3-star prospect
Lewis Waller
committed.
• Dec 24 2011: 3-star prospect
Glenn Howell
committed.
• Nov 05 2011: 3-star prospect
Greg Gibson
committed.
• Mar 11 2011: 2-star prospect
Shane Chaffin
committed.
• Feb 19 2011: 2-star prospect
Pete Echols
committed.
Record:
Wins: 3 Losses: 3 Pct: .500 Conf Wins: 0 Conf Losses: 0 Conf Pct: .000 Conf Rank: 10 Last10: 3-3 Streak: L1
Pts Ave: 71.3 - 76.0 Pts Diff: -4.7 Team Power Index: 115.4
Press Releases:
Oct 03 2013:
2013 review
-
by lynx13 on July 3rd, 2020
The rebuilding was officially underway. Not expected to be able to compete seriously in the conference, Coach Lawson decided to give all his young players significant minutes to give them experience. Only the departing seniors, Yan and Donaldson, averaged more than 20 mpg, and Donaldson is the only player to average double digit in scoring.
When asked if he's planning to use the same planning for the incoming season, Coach Lawson replied, "Well, last year's class is supposed to be the best recruiting class in the last 3 or 4 years. This year's class is at least as talented as, if not slightly more, than last year's. But they are still pretty raw though. Whether or not they can earn significant playing time depends on their development during the training camp."
This year's team is still not expected to be competitive, but the future seems bright. The only question is if those young players can turn their immense potentials into production. The main accomplishment so far is the team's ability to add some big bodies. When Coach Lawson took over, the team's average height is only 6'3", but now it's almost 6'6". Definitely a good starting point to compete more effectively.
Oct 04 2012:
2012 Review, Ross inducted into HOF
-
by lynx13 on May 11th, 2020
2012 was certainly a season to forget for the Seawolves. Projected to finish in top 5 in the conference according to experts prediction, the team limped to 12th position with 13-17 record. It seemed the loss of 4 of their top 5 leading scorers to graduation were too much to overcome.
The sign of trouble could be already seen when they lost all the non-conference games (granted, they have one of the toughest schedule in the whole Division 3). Midseason adjustment by Coach Lawson, installing Yan as the floor general and letting Donaldson to score at will, had the team playing slightly better, but still not enough. At least they still managed to win one playoff game.
On the bright side, Tevin Ross became the first player to be inducted into Seawolves' Hall of Fame. His 4 year college career average is as follows:
47.0 FG%, 10.3 pts, 9.1 reb, 0.8 ast, with a total of 25 POTG.
His senior season is definitely one to remember, averaging almost double doubles (13.0 ppg, 9.9 rpg, team leader in both categories) with 12 POTG, finally earning him All-Conference honor. It's certainly a fitting end to this homegrown talent's career.
Mar 10 2011:
A program in turmoil has finally righted the ship
-
by lynx13 on March 4th, 2020
The Seawolves open the season as a favorite for conference champion. Supposedly having one of the best squad in the conference, the team only managed the hover around .500 in the first half of the season.
The fans have had enough, and the athletic director appointed Lynx VJ as the new president.
He quickly fired Coach P.J. Impellizzeri, and Lee Biddle was appointed as the interim coach. After one month of search, the program finally settled on Bernie Lawson, a respected recruiter, as the permanent coach.
The turnaround was swift. The Seawolves finished the season on a tear, with a record of 13-4.
Unfortunately, their playoff journey ended quickly on the first round, due in large part to the unfortunate injury to Tevin Ross, the leading (some will say the only) rebounder in the team.
Nevertheless, the fans and the alumni are definitely ecstatic about the way the season unfolded, and they look forward to the program returning to glory once again.