California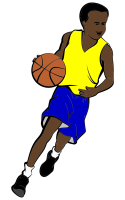 Nate Buchanan - PG
Team: California Golden Bears
[ID #51]

Location: Berkeley, CA (West)
Conference: II.1 [Division 1]
President: Oski

[since October 17th 2020 | last seen August 18th 2022]
Rating: 313.71 - Overall Position: #27
Fan Mood: 104.64
Alumni Mood: 204.65
Prestige: 126
Team Notes:
• Dec 24 2026: 4-star prospect
Arnold Zappa
committed.
• Dec 03 2026: 3-star prospect
Victor Matos
committed.
• Oct 31 2026: 2-star prospect
Thurman Mathewson
committed.
• Jun 30 2026:
Stuart Billings
was signed as a free agent by Denver.
• Feb 07 2026: 3-star prospect
Nate Buchanan
committed.
• Jan 29 2026: 3-star prospect
Rodney Wiggins
committed.
• Mar 09 2025: Made the national tournament field.
• Mar 09 2025: Won the
II.1
conference playoffs.
• Feb 01 2025: 3-star prospect
Trent Leach
committed.
• Nov 06 2024: 3-star prospect
Trevor Dyer
committed.
Record:
Wins: 24 Losses: 17 Pct: .585 Conf Wins: 16 Conf Losses: 14 Conf Pct: .533 Conf Rank: 8 Last10: 5-5 Streak: L3
Pts Ave: 75.6 - 70.9 Pts Diff: +4.7 Team Power Index: 153.3
Press Releases:
Oct 06 2016:
Bears Demote to IV.1 to Hibernate
-
by Oski on December 19th, 2020
It was a disappointing first season in Berkeley for President Oski. But that was to be expected with the state of the team when Oski took over with five talented players graduating in 2015. The Bears will try to prevent demoting again in 2016-2017, but that will be a tough task with the graduation of Dennis Rowe and the lack of depth in subsequent recruiting classes. In addition, Cal lost out on a few recruiting battles that gutted the incoming class, which now consists of just Jack Guenther, a guard from Lakewood, CA who looks like a solid glue guy on the perimeter with his defense, speed, and shooting. This Bears team will be led by the front court duo of Scot Jordan and Brian Daniels, along with the injection of redshirt freshmen Robert Pfeffer and Garrett De Lucia into the rotation. While it'll take some time for things to get better, things will get better. The Golden Bears have their claws in on several prospects in the future classes and hope to start to dig out of this hole.
Oct 08 2015:
Golden Bears Usher in New Era
-
by Oski on October 24th, 2020
At the end of the 2014-2015 season, the Cal Golden Bears announced the hiring of a new President to replace long-time president CoachA. The university would like to extend our gratitude to CoachA for taking this team quite far and reaching vast heights in their long tenure of more than 12 seasons. But things started to fall off the rails in the past few seasons. Things had gotten so dire in Berkeley that the mascot Oski has returned to his alma mater as the new President. Head Coach Chase Shibata will return for his 16th season and do most of the speaking, as Oski does not speak.
In his season-opening press conference, Shibata had a practical view of the state of the program. "We've had many solid seasons lately. Now, we're faced with a rebuilding phase. We graduated a lot of talent and because we were so focused on being successful at this high level, we do not really have players quite ready to step in," said Shibata. "We also have been a little light on the recruiting front. While we've gotten some good players, we just don't have the depth or talent we're accustomed to here in Berkeley. So we had to scramble late last season to find some players who are going to fill crucial roles right away. We're gonna do our damnedest to stay in III.1, but the focus will be on development."
The Bears return just one starter, senior Dennis Rowe, who will be moving to small forward and provide leadership and a defensive cornerstone. An unproven point guard will handle the ball. Word is that player will be redshirt freshman Bob Bresciani, who did not play a lot in his redshirt year and does not have much experience as a lead guard, but the 6'5" Sacramento native has shown the raw skills to excel at the position. Redshirt sophomore center Scot Jordan looks like a promising piece in the middle to build around and brings game-changing size to the starting lineup for the first time in a while. The other two, Brian Daniels and Roscoe Carrier, are talented, but young.
The incoming recruits are a mixed bag. Robert Pfeffer and Garret De Lucia look promising. Both look like solid perimeter talents and part of the next wave of successful Bears. It remains to be seen if they redshirt or play right away, but Shibata said that Oski's philosophy is to redshirt players as often as possible.
That said, three players will play as true freshmen. Cassius Samuel, Marcus Monroe, and Art Eaton were signed late last season, after seemingly garnering little interest. Perhaps every team in the country overlooked them and they are hidden gems. Or they simply lack the talent. Shibata hopes it's the former, as each show the skills to play certain roles and had solid development in high school. But he acknowledged that this year will be rough for them. "There are going to be a lot of growing pains this year. These kids are not typical blue-chip recruits. The hope is that we take our licks this year, develop, and are ready to come right back soon."
According to Shibata, Samuel will handle backup point guard duties, Monroe will cover all the wing positions, and Eaton will be the backup big. While the rest of the country seemed unenthused about them, they were ecstatic to get offers from the Bears, no matter how late. Samuel and his family in Winston-Salem, North Carolina celebrated wildly. "I was jumping up and down when I got the call. My mom was screaming in the house and calling everyone. I was looking at local JUCOs earlier that day. Now I'm gonna be playing D1 at a top school. I'm ready to work hard and show everyone what I can do and help this team."
Our goals for the next couple of seasons are to just avoid demotion (Oski looks on somberly at the likelihood of demotion this season) and to rebuild the talent and development pipeline, re-establishing our roots in California. We want to be the flagship basketball program of the state, just as we are in academics. But that will take time to build and we've got our work cut out for us.
Go Bears!