Sioux Falls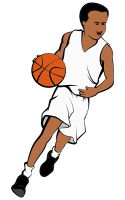 Jason Jennings - SF
Team: Sioux Falls Cougars
[ID #553]

Location: Sioux Falls, SD (Plains)
Conference: I.1 [Division 1]
President: stlouis40

[since November 25th 2020 | last seen December 04th 2023]
Rating: 465.41 - Overall Position: #10
Fan Mood: 93.89
Alumni Mood: 210.60
Prestige: 204
Team Notes:
• Oct 09 2035:
Wayne Whatley
was hired as the new assistant coach.
• Oct 09 2035: Assistant coach
Elliott Fine
was let go.
• Jun 26 2035:
Seth Fisher
was drafted round #2, pick #5 by Minnesota.
• Mar 11 2035: Made the national tournament field.
• Jan 11 2035: 4-star prospect
Robbie Ward
committed.
• Jan 04 2035: 3-star prospect
Will Danielson
committed.
• Dec 07 2034: 3-star prospect
Chris Forster
committed.
• Oct 21 2034: 3-star prospect
Alejandro Cardenas
committed.
• Feb 25 2034: 2-star prospect
Lorenzo Gomez
committed.
• Feb 23 2034: 3-star prospect
Marquis Horan
committed.
Record:
Wins: 8 Losses: 4 Pct: .667 Conf Wins: 0 Conf Losses: 2 Conf Pct: .000 Conf Rank: 13 Last10: 7-3 Streak: L2
Pts Ave: 98.1 - 77.5 Pts Diff: +20.6 Team Power Index: 138.5
Press Releases:
Oct 04 2035:
New Prestige
-
by stlouis40 on November 17th, 2023
Sioux Falls finally made it into the 200's with a 204 Prestige. We now join 16 other programs with a 200 or above Prestige!
Apr 05 2032:
Finally!
-
by stlouis40 on June 1st, 2023
After taking over the team 17 seasons ago we finally won the championship! We started out in Div 3 and over the years have made the team a consistent winner. The team is losing 3 starting seniors but believe there is enough talent to have another great season next year. Congratulations to New England making it to the championship game as well! Good luck to everyone next season!
Mar 27 2032:
Back to Final Four!
-
by stlouis40 on May 30th, 2023
For the 2nd time in 7 Seasons the Cougars are back in the Final Four! We have been in the Championship game once before but hoping to go all the way this year. We have to get past a tough Methodist University squad. This Cougars team has no star player, but rather players that play their position well. Good luck to the Final Four teams!
Mar 04 2027:
Conference Legends Champs!
-
by stlouis40 on August 14th, 2022
Sioux Falls has the conference wrapped up as they look forward to the National Tournament. We managed to pull through the last 7 out of 10 away games to stay at the top. Looking to go far in the tourney as long as the injury bug stays away. Another year of beating expectations.
Feb 04 2027:
Sioux Falls Looking to Hang On
-
by stlouis40 on August 6th, 2022
With the struggles of being able to win on the road, Sioux Falls has quite the challenge coming up. We play only 3 out of 9 home games to end the season. Currently trying to hang on to a 2 game lead in Legends.