Manchester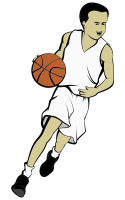 Cameron Sutcliffe - SG
Team: Manchester Spartans
[ID #720]

Location: North Manchester, IN (Central)
Conference: VI.14 [Division 3]
President: revjones29

[since July 02nd 2018 | last seen May 24th 2019]
Rating: 134.47 - Overall Position: #122
Fan Mood: 147.94
Alumni Mood: 117.85
Prestige: 12
Team Notes:
• Dec 15 2005: 3-star prospect
Nick McCleary
committed.
• Mar 13 2005: Made the division 3 tournament field.
• Mar 13 2005: Won the
VI.14
conference playoffs.
• Mar 12 2004: 4-star prospect
Marc Fingers
committed.
• Oct 18 2003:
Lewis Beasley
was inducted into the team Hall of Fame.
• Mar 13 2003: 2-star prospect
Chris Schmitt
committed.
• Mar 09 2003: 2-star prospect
Juan Zuniga
committed.
• Mar 07 2003: 3-star prospect
Cameron Sutcliffe
committed.
• Feb 06 2003: 4-star prospect
Jeremy Mills
committed.
• Nov 02 2002: 4-star prospect
Antonio Almanza
committed.
Record:
Wins: 31 Losses: 6 Pct: .838 Conf Wins: 23 Conf Losses: 4 Conf Pct: .852 Conf Rank: 1 Last10: 9-1 Streak: W6
Pts Ave: 81.4 - 69.4 Pts Diff: +11.9 Team Power Index: 148.8
Press Releases:
Mar 13 2005:
Conference Champs
-
by revjones29 on April 5th, 2019
With the D3 tournament Manchester has made it through a grueling season and tough conference tournament. Now they focus on getting through the next challenge. Scott stated, " These are the moment you look forward to in life. The next challenge is always harder but we a ready to face it win or lose." Lets see if the Spartans can conquer they next challenge in the tourney.
Oct 14 2004:
Exhibition sweep
-
by revjones29 on February 20th, 2019
With the Preseason games coming to an end the Spartans got to play so good war-ups games and then faced a major challenge in the final game. Going up against #16 Missouri the Spartans squeeze out a victory against a very worthy opponent. Hopeful this will bring a boost on confidence to go into the season looking to avenge their pervious two with back to back losing records. PG Mill, PF Scott, headline a duo that should bloom during the course of the season. Coach Mark Cohen stated, "These boys have worked hard over the last two years to build this program back up, they are hungry to win and to keep winning." Stay tuned for a interesting season folks
Mar 11 2004:
Conference Playoffs
-
by revjones29 on February 5th, 2019
After today's upset victory against the number three team in the conference. Manchester goes into their next game with confidence and energy to take up the Central. Lets get it boys. #spartanstrong
Oct 16 2003:
Rebuilding
-
by revjones29 on December 26th, 2018
Manchester Spartans have been in the lab the last two off-season working on building the class the featured an all american and pro player. Now we fast forward to a team that features one senior and a freshman on the year in Kelly Casuey who will play a major roll as the Spartans will make a push to get back to prominence and get back to that spartan style of basketball. A young team that looks to be on the rise with a lineup of Freshmen, Sophomores and on junior in the starting line up. Look out D3 Spartans are rising. WE ARE MU!!!!
Nov 03 2001:
Recruiting Streak
-
by revjones29 on September 11th, 2018
Today the Spartans received a commitment from Kelly Causey, from Willaimston, MI. Welcome to the Family Kelly lets get after it. Spartans Strong