Greenville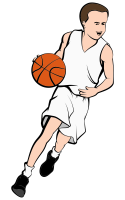 Josh McDonnell - SF
Team: Greenville Panthers
[ID #942]

Location: Greenville, IL (Central)
Conference: VI.28 [Division 3]
President: thesystem122

[since March 28th 2021 | last seen June 24th 2021]
Rating: 73.31 - Overall Position: #554
Fan Mood: 106.37
Alumni Mood: 92.30
Prestige: 0
Team Notes:
• Nov 30 2019: 2-star prospect
Parker Perdue
committed.
• Oct 08 2019:
Luke Colby
was hired as the new assistant coach.
• Oct 08 2019: Assistant coach
Caleb Richard
was let go.
• Oct 03 2019:
Thaddeus Draper
was inducted into the team Hall of Fame.
• Oct 03 2019:
Kendell Canfield
was inducted into the team Hall of Fame.
• Feb 23 2019: 2-star prospect
Jeff Spain
committed.
• Nov 24 2018: 2-star prospect
Josh McDonnell
committed.
• Nov 22 2018: 2-star prospect
Edward Norman
committed.
• Nov 17 2018: 3-star prospect
Rahsaan Mosley
committed.
• Nov 17 2018: 3-star prospect
Blake Fogarty
committed.
Record:
Wins: 10 Losses: 5 Pct: .667 Conf Wins: 4 Conf Losses: 1 Conf Pct: .800 Conf Rank: 6 Last10: 7-3 Streak: W3
Pts Ave: 84.9 - 72.5 Pts Diff: +12.4 Team Power Index: 127.5
Press Releases:
Oct 16 2019:
Greenville Receives Both Praise And Backlash After Record Breaking Win
-
by thesystem122 on June 10th, 2021
Greenville Head Coach Kermit Coles defended his team after the Panthers were criticized for running up the score following their 131-39 win over Salem State, saying, "In my 15 years of coaching college basketball, our defensive performance in the first half is the most proud I have ever been of my team. The score was not about trying to show up our opponents, it was about our work all off-season to change the narrative of us being a soft club who doesn't have any pride on defense. The way we continued to take charges, rebound, and scrap for loose balls even after getting a big lead says a lot about this group of kids."
In the game, Greenville was exceptional in every facet. They blew the roof off of the H.J Long Gymnasium with a 35-0 run to start the game, and shot 60%, made 16 threes, out-rebounded the Vikings 48-23, and forced 30 turnovers.
Feb 28 2019:
Introducing Our Recruiting Class
-
by thesystem122 on May 23rd, 2021
Greenville finalized their first recruiting class under their current president, with Coach Kermit Coles saying, "I am extremely excited to work with these guys next year. Josh (McDonnell) was a big time player at Waubonsee CC and he will play a major role, Jeff (Spain) will be a valuable jack of all trades player, Edward (Norman) can play both forward spots and can shoot the lights out, and Rahsaan (Mosley) and Blake (Fogarty) are versatile guards who flat out make winning plays. I am excited for these kids to help shape the future of Greenville Basketball."
Jan 26 2019:
Canfield Sets Single Season School Record
-
by thesystem122 on May 14th, 2021
Kendall Canfield scored 19 second half points to lead Greenville to a 88-81 win over Concordia Chicago, and with made 7 threes in the game, his total stands at 130 for the season, passing the previous record of 126. The day was especially sweet, as it came in front of his home fans, and helped the Panthers avenge a 46 point shellacking in the first meeting between the teams this year.
Dec 27 2018:
Catastrophic Afternoon for Greenville
-
by thesystem122 on May 5th, 2021
As Head Coach Kermit Coles put it, "Sometimes you just hope it was a bad dream." Greenville scored a paltry 19 first half points against Maryville, and despite a spirited 2nd half effort, fell to a fourth consecutive defeat. To make matters worse, leading rebounder James Barker and 3rd leading scorer Arkaidy Vishanyakov each suffered injuries, Barker for a few games, and Vishanyakov for 2-3 weeks.
Oct 27 2018:
Kendell Canfield Is The Best Shooter You've Never Heard Of
-
by thesystem122 on April 18th, 2021
You may not know his name, but Greenville senior SG Kendell Canfield is making a case as one of the nation's best shooters, regardless of division. Given the green light by the new regime, Canfield is averaging 28.8 PPG, and combining efficiency with volume from behind the arc by making 6 3PT per game at a 42.9% clip. With him leading the way, there is hope that this could be Greenville's year to take their up-tempo show up to DII next season.