Dominican Univ. of California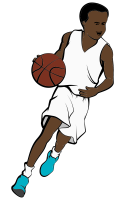 Sherman Boyer - PG
Team: Dominican Univ. of California Penguins
[ID #564]

Location: San Rafael, CA (West)
Conference: II.2 [Division 1]
President: gards710

[since May 17th 2020 | last seen August 18th 2022]
Rank: #1
Rating: 450.26 - Overall Position: #6
Fan Mood: 132.37
Alumni Mood: 175.25
Prestige: 138
Team Notes:
• Mar 06 2027: Won the
II.2
conference.
• Feb 20 2027: 2-star prospect
Derek Walton
committed.
• Jan 14 2027:
Brian Hofmeister
was inducted into the team Hall of Fame.
• Jan 09 2027: 4-star prospect
Gerald Loomis
committed.
• Dec 10 2026: 3-star prospect
Charlie Cheatham
committed.
• Sep 03 2026:
Darren Cahill
was appointed as the new head coach.
• Sep 03 2026:
Rahsaan McCartney
was fired as head coach.
• Feb 05 2026: 3-star prospect
Dylan Swanson
committed.
• Jan 10 2026: 3-star prospect
Sherman Boyer
committed.
• Aug 28 2025: Demoted to conference
II.2
.
Record:
Wins: 39 Losses: 3 Pct: .929 Conf Wins: 28 Conf Losses: 2 Conf Pct: .933 Conf Rank: 1 Last10: 7-3 Streak: L1
Pts Ave: 91.3 - 66.4 Pts Diff: +24.9 Team Power Index: 162.3
Press Releases:
Oct 08 2026:
2026 Spells Doom-inican for the Penguins
-
by gards710 on July 1st, 2022
In a shocking twist, the Penguins fired Head Coach
Rahsaan "Rafiki" McCartney
following the 2025-2026 season. First off, we thank Coach McCartney for the incredible job he did building this program for the past 14 seasons, taking the team from the lowest levels to the peak of the mountain, winning a Division 2 National Championship and making it to the Division 1 title game along the way, in addition to a couple of conference championships. But things have started to take a downturn recently. Despite reaching the pinnacle before, it has becoming increasingly clear that a change was needed, as the team has struggled the past two seasons, including a demotion from Legends, and a bit of a disappointing 2026 season, despite having the National Player of the Year
Marcus Choate
. We will not disgrace Coach McCartney by fabricating stories of drunkenness or scandal to slander his name. We respect perhaps the greatest teacher and one of the most successful coaches in the history of the game, and we wish him the best in the future, having already been hired by Waynesburg University.
But who would replace Rafiki? It was thought that perhaps one of the assistant coaches would, with Lloyd Thompson showing a lot of promise, Dustin Shuster showing some tactical chops, and Victor Adamson being the longest tenured and the lead recruiter. That all said, the program tabbed
Darren Cahill
as the next head coach of the Penguins. The 43-year old Cahill, most recently a member of Concordia Oregon's staff, was let go after 3 seasons with the Cavaliers, the last two of which were losing seasons in Division 3. So what did the administration at Dominican see in Cahill? "A lot of potential and a chance to improve in areas that we felt we were not as strong as we should be."
One of the main tasks for Cahill will be harnessing the immense talent of reigning National Player of the Year
Marcus Choate
, Dominican's third NPOTY winner in the last 4 seasons. Choate will try to make it 4 of 5, and become the second back-to-back winner in program history, joining
Brian Hofmeister
with that distinction. "I respect Brian. He taught me a lot my first year," said Choate with a smile, before looking down briefly and then raising his head and showing a stone cold look. "But I'm better."
Despite having one of the best teams in the II.2 conference on paper coming into the 2026 season, DUCA could not live up to that ranking. Perhaps it was because of the rumored dalliance of the AD being on a tropical island for a crucial month. Or perhaps it is just too difficult to build around a player of Choate's caliber, as the team lacked depth at times.
That said, the cast surrounding Choate has seemingly developed into something to watch. The team graduates 3 players, including starting guard
Glenn Wolfe
. But perhaps the most important thing is the addition by subtraction of shedding the fat of
Marc "Chubbs" Chapman
and
Adam "Grenade" Wojcik
, two players notorious for their poor work ethic and whom the coaching staff had no problem publicly lambasting for it. Good riddance to those schlubs.
One thing is for sure: the Dominican California Penguins are as hungry as Chubbs in the dining hall to get back to Legends.
Oct 26 2024:
Penguins Experiencing Ups and Downs of Legends
-
by gards710 on March 20th, 2022
The Dominican University of California Penguins just enjoyed another solid season in 2023-2024, with a third place finish in the rough waters of Legends and an Elite 8 run in the National Tournament. And after graduating the best player in program history, a new era is on the rise. Replacing
Brian Hofmeister
, who went #1 in the 2024 HWBA Draft to Boston, will be extremely difficult. The program's all-time scoring leader barely eclipsed the 3,000 point mark (3,040) thanks to a monster year after moving to the point guard position to let Hof take over games. Hofmeister achieved every award possible for his season, earning All-Conference in Legends, Conference Player of The Year, All-Tournament, All-American, and National Player of the Year. Hof also graduates as the program's all-time leader in steals (306), three pointers (432, 110 more than 2nd lol), plus/minus (+10.39 average, +1807 total), and Player of the Game Awards (52, 20 more than 2nd). We're excited to see what he does in the pros. With Hof and two other key starters gone (
Ben 'Dragon' Fong
and
Lucas 'Sticks' Cunningham
), the Penguins could be knocked off the Legends iceberg (possible demotion).
Ultra-talented SO
Marcus Choate
takes the reigns as the star player and some think that he could end up being better than Hofmeister eventually. Word is that he has been working his shooting and conditioning all summer so he can carry the load. Redshirt SO big man
Elwood Day
also returns to anchor the defense and hopefully provide some inside scoring. "Marcus is one of the most talented players ever and practically lives in the gym, and just like with Hof, we're going to do our best to put him and the team in the best position to succeed. And Elwood is a monster in his own right," said head coach Rahsaan McCartney.
Entering the starting lineup are likely to be 7-foot RS FR Benjamin Granados, RS JR Glenn Wolfe, and RS SR Chris Teal. Teal has been increasing his production as the 6th man for two seasons and now finally gets a crack at starting, as does Wolfe. The pair form one of the quickest backcourts in program and hopefully that aids them in their pursuit of success this year. Granados may seem like an odd choice to start over more skilled veterans like JR Adam Wojcik or RS JR Marc Chapman, but the team believes that Granados's hard work should be rewarded, as he has improved by more than them. Granados's size and mixture of skills is also seen as a better fit for the team. The much-maligned 'Grenade' Wojcik and 'Chubbs' Chapman will come off the bench, along with RS FR Conner 'Cata-'Pillar and RS SO Thomas 'Choo Choo' Dawson, who are developing well.
2025 Outlook
The team is expecting another down year as the fairly young group needs time to develop. Choate will have to lead the way with the big men's size and the guards' speed hopefully aiding their lack of skills at the moment. Of course, the coaching staff and administration are hoping the team can squeeze their way to survival, but the Penguins haven't been in this position ever before, so it remains to be seen how they will fair.
Recruiting
Two precociously skilled recruits join the flock as well as a group of walk-ons who will provide a sizable cheering section on the bench.
Austin Vern
- this 3-star recruit from Los Angeles, CA measures 6'3" with a 6'8" wingspan, and brings a well-rounded offensive game to the table and could feasibly play at any of the perimeter positions. Vern averaged 12.9 ppg, 1.6 3pg, 3.6 rpg and 3.3 apg in his senior year of high school on 44.5% shooting (36.2% from 3). He was basically the same player throughout high school, with averages of 12.6 ppg, 1.5 3pg, 3.6 rpg, 1.4 apg on 43.7% shooting (34.7% from 3).
From the coaches
: "We're really excited about Austin. We've been in contact with him since he was a sophomore, and despite a flirtatious push by a smaller school, we're lucky and happy he chose to commit here. We see him being able to contribute very well very quickly, some at the point and some at the 2, although he'll still redshirt his first season."
Booker Calloway
- a 4-star recruit from Columbus, Ohio is a 6'7", 225 lb forward with a 6'9" wingspan. A player who can really do it all at a high level. Calloway averaged 14.3 ppg, 1.6 3pg, 5.7 rpg, 2.7 apg, and 1.0 spg on 47.9% (36.1% from 3) in his senior year. He was a late bloomer in high school, as his averages were only 7.4 ppg, 0.6 3pg 4.3 rpg, 1.3 apg, and 0.6 spg on 45.8% (31.7% from 3) throughout high school.
From the coaches
: "Perhaps the hardest worker I've ever seen in my time and that's saying something with the likes of Clevenger, Hof, Choate, Spann, walking this campus. We think he has a chance to be special, and we put a lot of effort into wooing him out of Ohio, away from programs closer to home like Xavier and Wright State. We're not sure if he'll redshirt yet, but he likely will."
While DUCA may struggle in 2025, the future of the Pingus is looking really bright with Choate, Granados, Day, Pillar, and these two new croots, plus what's to come.
Oct 21 2023:
Glacial Freeze Upon DUCA?
-
by gards710 on January 21st, 2022
After enduring their worst season in 2023 since president gards710 took over, albeit this one in Legends, the Dominican University of California Penguins took a long at themselves. "We just didn't have a team that worked. Didn't improve as much as we hoped, didn't gel on the court," said head coach Rahsaan McCartney. "We were lucky to survive the bloodbath."
"While we did not have the season some may have come to expect from us recently, we are happy we are able to continue playing in the top conference in the game," said president gards710 to boosters during the athletics fundraising banquet held early in the summer while trying to milk them for more money.
Arriving to practice in his Ferrari, senior star
Brian Hofmeister
is feeling the spotlight. Coming into his junior year, there were several questions about Hofmeister. Was he going to let missing the national championship game due to a leg injury and DUCA's subsequent loss eat at him or was he going to use it to drive him? Could he handle being the clear threat on offense and the workload and attention that comes with it? Well, he was in the gym as usual, improving on his game massively, and he responded by being named All-Legends once again and…receiving his first National Player of the Year award. However, some feel that the award was not deserved, as Hofmeister's production went down in many aspects and he failed to lead DUCA to its usual level of success as the leader. How will Hof follow it up?
Going into his senior year, Hofmeister is viewed by many as the best player in college and it's always been his goal to be the top pick in the draft. He's already being looked at by scouts as a player who could currently be a top 10 player in the pros. His production has yet to really speak to that level of talent though. Some have said that DUCA's style has hampered Hofmeister's talent and stats. And while Hof will get his, it's always been about one thing at DUCA: winning.
"We've always prioritized the team over the individual. We're excited for Brian and the team as a whole. We think Brian has a great shot to earn the individual accomplishments on top of helping lead the team this season."
With all that said about the senior star, there are questions about what position he will line up at. After being entrenched at small forward for over two years, Hof actually lined up at power forward late last season and in exhibition games to start. His size, skill, and strength should enable him to be solid there, but he loses many advantages and strengths he had out on the perimeter. Then, in the first two regular season games of the 2024 season, he was back at small forward. Why all the shifting? "We're just experimenting and giving me more versatility. I'm willing to do whatever the team needs me to do for us to win," said Hofmeister, who then put his arm around a young teammate next to him. "And trying to get this new young goat the experience he needs to take over when I'm ballin' in the pros."
That "new young goat" would be freshman
Marcus Choate
, who like Hof before him, drives to practice in a sports car, Choate's choice being a Corvette, and comes in as the top rated Californian in his class and with big potential. Where Choate plays depends on where Hof lines up, but Choate has logged minutes at the 2 and 3 so far this season. Choate appears to be the heir apparent to Hof, with a similar skillset. But some people think Choate might eventually be even better. "Trust me, this kid can ball," said Hof. Choate smiled before ducking under Hof's hold. "Never before has a team had two players of this caliber. We're gonna do some things."
If Hof is at power forward, word is that last year's sixth man, swingman
Chris Teal
, would join the starting lineup. A quickdraw southpaw who was mostly seen as a defender early on, Aquaman picked up his scoring and shooting efficiency last season. If Hof is at his usual small forward spot, then it is still undecided who will start at PF. It's already been well documented that the coaching staff has not been pleased with redshirt sophomore
Marc Chapman's
development, as it was still lackluster after being called out. And now, redshirt freshman
Elwood Day
, who has shown a better work ethic is available. Day brings a bit more size and heft along with a more traditional big man skillset while Chapman should help space the floor with his speed and shooting. What do Hof, Choate, and the team need more to achieve success? It might be based on the matchup. "Sometimes, I feel like we could really use that inside force sucking in the defense away from Hof and now MC on the perimeter," said McCartney. "Other times, that spacing is helpful to stretch and strain the defense."
The other two spots, point guard and center, seem a bit more entrenched, with redshirt seniors
Lucas Cunningham
and
Ben Fong
returning as starters.
The bench will be made up of
Glenn Wolfe
and
Thomas Dawson
on the perimeter, then two of Teal, Day, and Chapman, and the Pol A
dam Wojcik
, who has been all but shunned to getting towels for his teammates and helping them with their foreign language class requirements.
The 2023 recruiting class might be hailed as one of the best ever at Dominican. Of course, there is Choate, who will play right away. But the other two will redshirt their first seasons on campus.
Conner Pillar - from Fresno, CA, stands 5'11", 200 lbs, 6'8" wingspan. Pillar was the first to sign, showing how smart and quick he is on and off the court. Pillar averaged 10.9 ppg with 2.0 threes a game, and 2.0 assists per game along with a 37.1% opponents FG% in his senior season. For his high school career, he scored 10.6 ppg, 1.7 3pg, 1.5 apg, on 38.6%/31.4%/68.1% shooting.

From the coaches: "Conner popped up for us pretty late in recruiting. It took us a while to realize how well he fit in here. He's similar to our point guard of the past 4 years, Jay Gillespie [editor's note: who is somehow 3rd all time in SI in program history??], who just graduated. Able to run like the wind and make plays for himself and others, and be a threat to shoot. But he's a bigger threat to score."
Benjamin Granados - from Chicago, Illinois, stands 7', 225 lbs, with a 7'1" wingspan. While Granados was a 7-footer in high school, he was still a gem of a find amongst the skysc*beep*rs in Chicago. Granados averaged 13.6 ppg on 61.9% shooting, 11.2 boards a game, 1.2 steals a game, 1 block a game, with a remarkable 63.4% eFG in his senior season. He averaged 9.3 ppg, 8.1 rpg, 0.9 spg, 0.5 bpg on 56.3% FG% throughout high school.

From the coaches: "We're very excited about Ben. Y'all remember Angel Reyes? How could you forget! Well while Ben isn't quite as gargantuan as Angel, (who is really?), Ben is more skilled. But he's more like a string bean than the Sears Tower, so he'll redshirt to bulk up."
With the new arrivals, a new era of Dominican basketball is upon us. Will the third year in Legends bring the Penguins the Big Catch?
Feb 16 2023:
Chapman On Chopping Block
-
by gards710 on December 30th, 2021
Questions have arisen regarding redshirt freshman Marc Chapman's future with the program after a heated talk with President gards710 and the coaching staff. Chapman was a highly touted recruit (#403 overall, #19 in CA in 2021) and was slated to be a starter next year at the latest. "He's lazy and lethargic, he'd rather pig out at the dining hall than put in work at practice," said president gards710. It seems the last straw was the recent development updates, that, while crude and do not show everything, shows little improvement from Chapman. "These kids just expect everything to be handed to them, There used to be a culture here of working hard. And that's changed for some reason. We don't need that here," said head coach Rahsaan McCartney, who then stated the open spot in the starting lineup could be handed immediately to recently committed 5-star recruit Marcus Choate.
Oct 06 2022:
Leg-Wait For It-'Guin-Dary Again!
-
by gards710 on November 21st, 2021
"What do you mean we don't promote???" The president exclaimed, slamming his office desk when told that the Dominican University of California Penguins would remain in Legends, Hardwood's top conference, for the 2023 campaign. Despite finishing in third place in 2022, which would normally be good enough for the team to promote, there was no such reward waiting for the program. After the program had promoted for four straight seasons from LL5 in 2018 to LL1 in 2022, the Penguins had gotten used to the feeling. Please forgive them for the confusion.
2022 Season recap
: After an undefeated non-conference slate, prognosticators had the Penguins pegged in the upper group of the conference, but internally, the goal was to just survive. Head coach Rahsaan McCartney, in his 9th season with DUCA, didn't know what to expect. No one did. "We were going up against the best of the best and we didn't know what was in store for us." And 5 games in, things were looking bad, with unexpected losses already on the docket and a rough stretch against the nation's top 4 teams all in a row on the road plus an injury to backup swingman Chris Teal reducing the depth. But DUCA managed to go 2-2 in that stretch and then rattled off 6 straight wins. While no massive runs were made, solid stretches scattered the schedule and the Penguins found themselves atop a pile of teams in the mid table, only to lose their first round matchup in the conference playoff against Chowan.
National Tourney recap
: That performance was good enough to receive a bid to the National Tournament as a 5 seed. Thanks to their balanced attack and small tweaks, Dominican was able to knock off strong and up and coming programs such as Southern Illinois and Southern Miss. Then came a battle with fellow Legends leaguer North Greenville, who had shown massive improvement after a lineup change, including a 24 point drubbing of DUCA in Tigerville to start the second half of conference play. But a stifling defensive performance carried the Penguins to the Elite 8 where they would face LSU, a team with top end talent and gargantuan players. DUCA was able to survive and eked out a 94-89 win to head to the Final Four for a matchup with uber-freshmen Ollie Mann and Iona. In an intense back-and-forth game, Dominican pulled out the win thanks to a hot start by Hofmeister that allowed Reyes to take over later. The Penguins were heading to the championship game to face former V.3, IV.2, and III.1 conference mate Alabama Crimson Tide, perhaps the top team in the Hardwood Universe all season. But then the team doctors came into the locker room after the game and brought the bad news: star sophomore Brian Hofmeister had hurt his leg after fouling out in 16 minutes. Hof pleaded to play, but everyone knew his future was more important, even moreso than the National Championship game.
The game started out as well as anyone could have hoped, with the Penguins holding as much as a 12 point lead late in the first half. But Alabama managed to close the deficit to 4 points by the buzzer and then the slow drip started. And despite Bama's star big man Billy Ray Zhang fouling out, Dan Nash came through with a net-scorching 35 points on 8 three pointers to lead Bama to victory. It was a valiant effort by the Penguins, with 4 starters logging career highs in minutes played.
"Congrats to Alabama. With Brian out, no doubt we had a lot to make up for," remarked McCartney. "I thought we had a great game plan vs Bama and I'm proud with how we performed. We asked a lot of everyone else and guys stepped up. It was not to be, but it was a fantastic run nonetheless." As a result, Dominican is once again etched into the record books as the national runners-up, alongside Alabama and last year's national runners up, the College of New Rochelle Blue Angels, whom President gards710 maintains are "frauds."
2023 preview
:
With the weight of his absence for the National Championship on his shoulders, Hofmeister returns hungry. After garnering his first All-Legends honor, the junior is the first uber-prospect to be in Legends for two seasons (although Toledo's Derrick Campbell can also make this claim). And he wants to make his presence felt for the Penguins, who open the season at #5 in the polls. Coaches have let him know that an increase in playing time and hopefully production is in order. And the Penguins will need it after graduating two starters in All-Tourney selection Glen Palmer and the immensely massive Angel Reyes, who both graduate as two of the most distinguished Penguins of all time.
PG Jay Gillespie continues to improve and now as a redshirt senior will be one of the main leaders of the team. And while his job may be simplified to "get the ball to Hof" Gillespie is a lethal weapon in his own right. Ben Fong will make the move to center to fill the massive shoes of Reyes. The once embattled recruit has now become a key member of the team, earning All-Tourney honors. Fong brings a more defensive presence than Reyes, but showed his chops on offense at times last season.
Alan Fontana and Lucas Cunningham appear to be in line to enter the starting lineup for the first time since stepping on campus. While there has been talk of RS FR Marc Chapman starting over Fontana, the RS SR showed he deserves to start after some nails performances in the national tournament, and will provide the best inside scoring threat this season, something the team needs to suck in defenses with the graduation of Reyes. The first player of three to arrive in San Rafael from Georgia, the coaching staff hopes Lucas Cunningham's path is something the others follow. Cunningham was solid in 2022, having improved a lot over his three years and continuing to see an increase in minutes each season. Replacing Palmer in the starting lineup only continues that trajectory.
As for the bench, the depth falls off quite a bit from the starters and there is concern about that being exposed. But hopefully these players can develop quickly. Glenn Wolfe and Chris Teal will cover the perimeter positions in some configuration. Wolfe is in the same mold as Cunningham as a versatile player who can shoot, defend, handle, and pass. Teal will be seen as the first option off the bench, and will need to continue his strong play from the tourney to get the reigns taken off on offense. While there was talk of big Marc Chapman starting as a RS FR, he didn't work hard and improve like expected and hoped. Instead of being in the gym developing his skills during his redshirt season, Chapman was in the dining halls gaining 20 lbs and grew an inch in height. "Every bit of size helps," joked assistant coach Floyd Thompson. "We're hoping Marc is one of those players that needs to play to improve. He'll get his chance." Finally, true freshman Adam Wójcik arrives from Poland much the same player he was when the coaches first saw him. He didn't grow and only gained 5 pounds. As assistant coach Dustin Schuster puts it, "Are they even feeding kids in Poland?"
In other news, the domestic recruits have arrived and both Elwood Day and Thomas Dawson appear to have beefed up, unlike Wojcik. Day grew an inch to 6'11.5" and added 10 lbs to reach 250 lbs while Dawson sprouted up by two inches to 6'4". "We're very encouraged by the physical growth and growth in skills of these two. These two will redshirt and we anticipate a lot more improvement for them this season," said assistant coach Victor Adamson.
And with the program remaining in Legends, DUCA hopes to wield that influence on the recruiting trails more, as they appear to be the frontrunner for 5-star Marcus Choate. But before Choate and any other future recruits arrive, more blocks need to be put down in this foundation, starting with focusing on this upcoming season. Let's go Pingus!